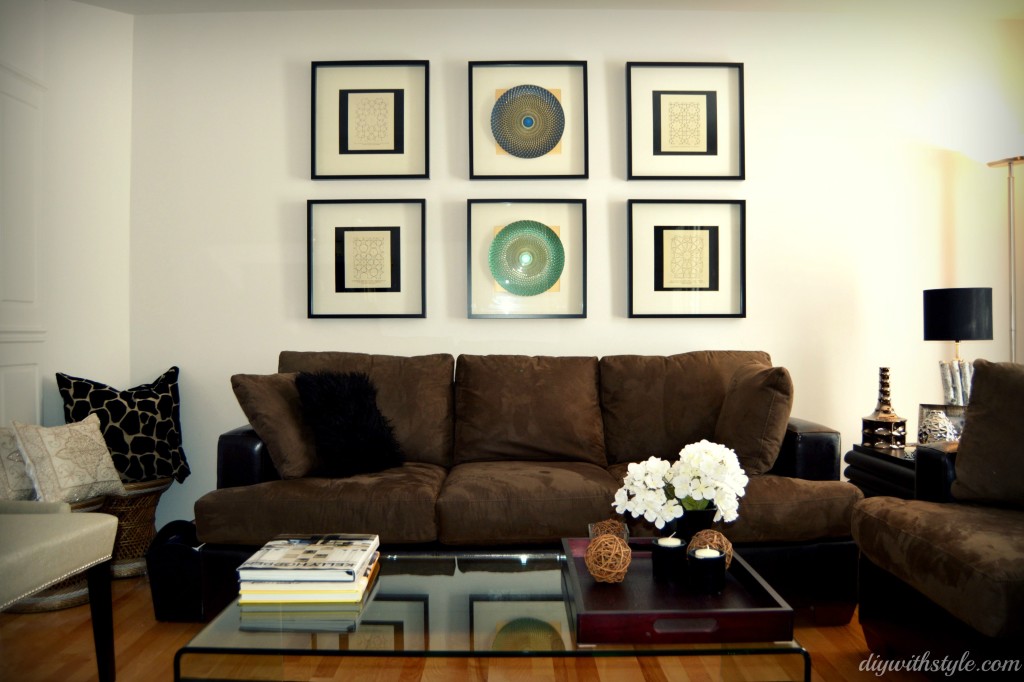 I kid you not, it took 4 years after we moved into our new home, after all the furniture in the room was put in, after buying and trying out paintings and pictures and deciding "nope, no good" that finally, I created a wall in the Living Room that not only worked, but that we loved and that all our visitors ask about and appreciate too. It's a wall that tells a story.
Needless to say I love art, and architecture, but I especially have a profound appreciation for Islamic & Middle Eastern art. Particularly Moorish Architecture. I'm truly fascinated by the geometric calculations behind the patterns, such intricate designs with beautiful and calming repetition. It's the perfect display of harmony between engineering and art (which is right on the mark for me since my background happens to be in engineering).
One day while browsing through the internet about Moorish art I stumbled upon an old book online, more than 100 years old actually, offered copy-write free by a University in the U.S.*. It was superb: Written by a visitor into Southern Spain, it chronicled the beauty of Moorish designs and through text and drawings, went into detail about the step by step geometry behind the designs. These drawings were amazing with little captions describing the math. I mean, I had to have this on display in my house! Math, engineering, art, beauty… this was everything I was interested in combined! So I picked out 4 drawings with very different patterns and had them printed, 8×10 on photo paper. I mounted them myself in IKEA shadow-box frames. I placed the 4 frames on the wall and was so excited! But I left a huge gap in the middle of the wall because I knew I needed somthing else there…. so another 6 months went by until again I stumbled upon the perfect items: Turkish plates. I wish I could say I got them from Turkey, but I didn't. Hello Home Sense store (I know… right?!) One day my husband and I popped in and there they were: two plates, one a beautiful cobalt blue, another a stunning turquoise, both adorned with the same type of geometric pattern. These plates were the very display of what the drawings described. My husband and I just looked at each other, both thinking the same thing, and grabbed the plates.  I mounted them myself into the same IKEA shadow box frames.
And there we are. Every visit, people walk into my home stare at that wall for while, and then ask my husband and I about it. First they ask about the drawings,  we explain,  then they see the plates, and understand, and then they look down at my coffee table book "Moorish Architecture" (which was a gift from my husband years ago) and start perusing. This wall not only looks perfect for the space, but it tells a story and pays homage to a culture, civilization and history, and also tells a story about our interests.
 Setting the pictures in the frame:
I framed black velvet scrapbook paper (gluing it just behind the mat), and then glued the picture directly onto the velvet paper. Note: the glue I used was rubber cement so there would be no wrinkling of the paper.
Setting the plates in the frame:
The background for the plates was thick, gold-coloured scrapbook paper. But before gluing this paper in (with rubber cement), I cut a hole in the middle, about 2"x2" so that I could adhere (with a 3M Command Strip) the plate directly to the backboard of the picture frame rather than to the scrapbook paper.
 Have you told a story on your walls through art and design? Does your wall paint a picture of your interests, history, and culture? If so, share below!
*I apologize for not having the name of the book on hand. I don't have a copy of it anymore!